Previous Auction | Next Auction
texturedknitter
Offer: This knitted scarf is a bit more than 5 feet long, multicolored, with gold-colored metallic sparklies. Ooh, shiny. Everyone I've talked to has the same reaction: "That's a ridiculous-looking scarf," followed immediately by, "I have to have it!" A valid article of clothing for everyday wear, I think it would also be a nice addition to a Faerie-themed cosplay outfit.
Scarf is machine-washable (preferably on delicate/cold cycle), lay flat to dry. I will include a lingerie bag to help protect it in the wash.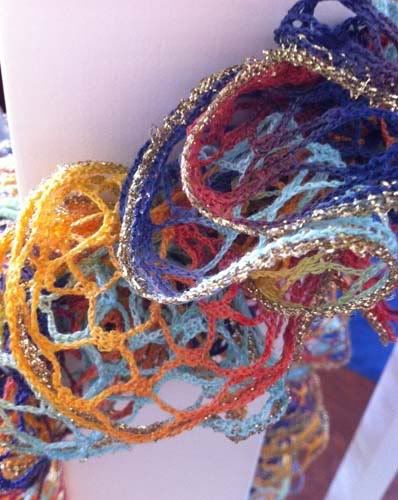 Contact: texturedknitter at gmail
Delivery: For US buyers, I will ship by Priority Mail the day after the auction ends, which according to USPS will get it there in time for Christmas. If you're sending this as a gift, I will box and wrap it (consulting with you about appropriate paper and gift tag).
For international buyers, I will ship First Class/Airmail at my expense, but I can't guarantee Christmas delivery. If you want FedEx or other expedited shipping I'll work with you to determine cost and whether you'd like to pay for that.
Minimum bid: $10.
Auction ends at 5 p.m. Pacific Time, December 15th 2011
Please see Mod Note here for bidding instruction changes/reminders
---