Previous Auction | Next Auction
Offered: Signed copy of Emily Carding's visionary Tarot of the Sidhe.
THREE AVAILABLE.
"Open the gates to the Celtic Otherworld with this inspiring new Tarot vivid and powerful, 78-card deck painted through direct inspiration from the Sidhe, (pronounced Shee), the ancient Gaelic name for the Faery race. The Sidhe take us beyond popular images of flower fairies, to a deeply magickal and spiritual set of images that take Tarot reading to a deeper level and may be used for meditation, magick, and more. Connecting with the Sidhe at this time may help you reconnect with inner powers of the primal Earth and bring healing to the land around you. The cards use original, non-derivatory symbolism and potent imagery within traditional Tarot structure. This Faery deck is born from shamanic techniques and can help you build a stronger connection with their realm. If you wish to strengthen your intuition and perception of the Otherworld, then this is the deck for you. Descriptions, meanings, and keywords are explored. There are also channeled oracle messages received from the beings on the cards."
Bids over $40 will also recieve a signed print from the deck!



F
rom the foreword by John Matthews:
"
The Tarot of the Sidhe
is both beautiful and powerful, two aspects of the Sidhe which become immediately apparent to anyone who encounters them. By allowing them to speak for themselves Emily has brought a dreamlike quality of wonder to the cards. The Sidhe have several times indicated their willingness to communicate with us, even suggesting that the future of both races may depend upon it. They have also demonstrably shown themselves willing to share their wisdom and knowledge. Surely, in this luminous Tarot, they have done so again."
Feel free to visit
Child of Avalon
to learn more about Emily Carding and her work.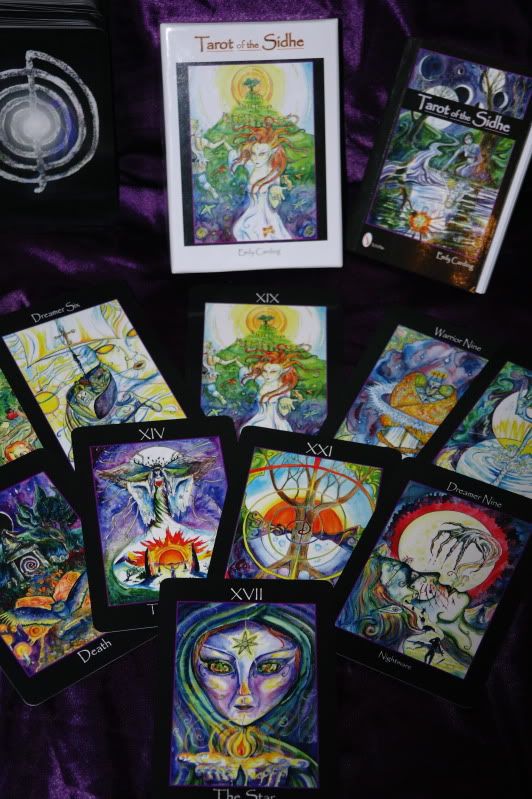 Minimum bid: $30
---